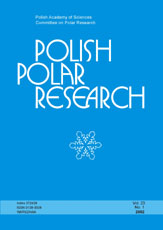 The quarterly Polish Polar Research edited by the Committee on Polar Research of the Polish Academy of Sciences is an international journal publishing original research articles presenting the results of studies carried out in polar regions.
All papers are peer-reviewed and published in English.
The Editorial Advisory Board includes renowned scientist from Poland and from abroad.
Polish Polar Research is indexed in Science Citation Index Expanded, Journal Citation Reports/Science Edition, Biological Abstracts, BIOSIS Previews, Cold Regions Bibliography, Antarctic Literature, Geological Abstracts, Polish Scientific Journals Contents - Agricultural and Biological Sciences, Quarterly Review, and Zoological Record.
IMPACT FACTOR 2020: 1.308

CiteScore 2020: 2.7

SCImago Journal Rank (SJR) 2020: 0.421

Source Normalized Impact per Paper (SNIP) 2020: 0.889
---
Editors-in-Chief
Magdalena BŁAŻEWICZ (Life Sciences), University of Łódź, Poland
e-mail: This email address is being protected from spambots. You need JavaScript enabled to view it.

Wojciech MAJEWSKI (Geosciences), Institute of Paleobiology PAS, Poland
e-mail: This email address is being protected from spambots. You need JavaScript enabled to view it.

Michał ŁUSZCZUK (Social Science and Hummanities), UMCS, Poland
e-mail: This email address is being protected from spambots. You need JavaScript enabled to view it.
---
Associate Editors
Piotr JADWISZCZAK (Białystok),
e-mail: This email address is being protected from spambots. You need JavaScript enabled to view it.
Krzysztof JAŻDŻEWSKI (Łódź),
e-mail: This email address is being protected from spambots. You need JavaScript enabled to view it.
Monika KĘDRA (Sopot)
e-mail: This email address is being protected from spambots. You need JavaScript enabled to view it.
Ewa ŁUPIKASZA (Sosnowiec)
e-mail: This email address is being protected from spambots. You need JavaScript enabled to view it.
Piotr PABIS (Łódź),
e-mail: This email address is being protected from spambots. You need JavaScript enabled to view it.
---

Editorial Advisory Board
Angelika BRANDT (Hamburg), Claude DE BROYER (Bruxelles), Peter CONVEY (Cambridge, UK), J. Alistair CRAME (Cambridge, UK), Rodney M. FELDMANN (Kent, OH), Jane E. FRANCIS (Cambridge, UK), Andrzej GAŹDZICKI (Warszawa), Aleksander GUTERCH (Warszawa), Jacek JANIA (Sosnowiec), Jiří KOMÁREK (Třeboň), Wiesława KRAWCZYK (Sosnowiec), German L. LEITCHENKOV (Sankt Petersburg), Jerónimo LÓPEZ-MARTINEZ (Madrid), Sergio A. MARENSSI (Buenos Aires), Jerzy NAWROCKI (Warszawa), Ryszard OCHYRA (Kraków), Maria OLECH (Kraków) Sandra PASSCHIER (Montclair, NJ), Jan PAWŁOWSKI (Genève), Gerhard SCHMIEDL (Hamburg), Jacek SICIŃSKI (Łódź), Michael STODDART (Hobart), Witold SZCZUCIŃSKI (Poznań), Andrzej TATUR (Warszawa), Wim VADER (Tromsø), Tony R. WALKER (Halifax, Nova Scotia), Jan Marcin WĘSŁAWSKI (Sopot) - President.
---
Contact:
Geosciences
Wojciech MAJEWSKI
e-mail: This email address is being protected from spambots. You need JavaScript enabled to view it.
phone: (48 22) 697 88 53
Instytut Paleobiologii PAN
ul. Twarda 51/55
00-818 Warszawa, POLAND
Life Sciences
Magdalena BŁAŻEWICZ
e-mail: This email address is being protected from spambots. You need JavaScript enabled to view it.
phone: (48 22) 635 42 97
Zakład Biologii Polarnej i Oceanobiologii Uniwersytet Łódzki
ul. S. Banacha 12/16
90-237 Łódź, POLAND
Social Science and Hummanities

Michał ŁUSZCZUK
e-mail: This email address is being protected from spambots. You need JavaScript enabled to view it.
phone: (48 81) 537 68 99
Instytut Geografii Społeczno-Ekonomicznej i Gospodarki Przestrzennej UMCS
Al. Kraśnicka 2D
20-718 Lublin, POLAND
---