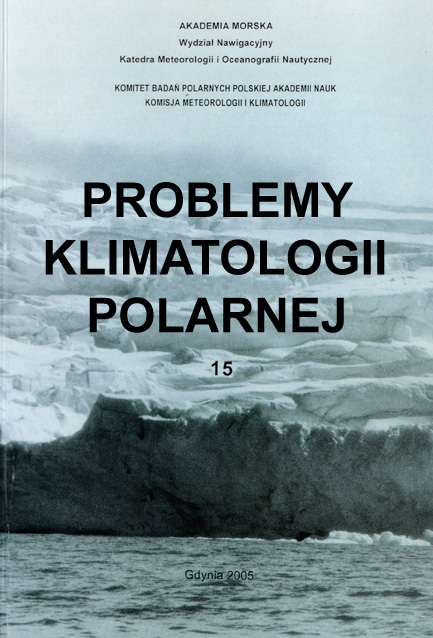 (A yearbook – articles in Polish, English or Russian, English summaries)
Publisher: The Meteorology and Nautical Oceanography Department of Gdynia Maritime University.
The Issues of Polar Climatology yearbook publishes articles, communications and scientific notes concerning climate and meteorological conditions in the polar regions, interactions between the ocean and the atmosphere in the Arctic and Antarctic and issues at the meeting points of climatology, hydrology and glaciology of polar regions.

All materials are reviewed.

The yearbook is indexed by Cold Regions Bibliography (Bibliography on Cold Regions Science and Technology, Antarctic Bibliography, U.S. Army Cold Regions Research and Engineering Laboratory - CRREL) and GeoRef, JournalSeek and BazTech.

Editor-in-chief:
Andrzej Marsz, Gdynia Maritime University

Editorial Office Address:
Katedra Meteorologii i Oceanografii Nautycznej,
Akademia Morska,
ul. Sędzickiego 19
81-374 Gdynia
POLAND
The scoring of the Polish Ministry of Science and Higher Education – 6 points